Ganti Server Lain Jika Video Tidak Bisa Di Putar/ Refresh Player Terlebih dahulu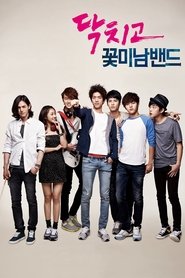 Shut Up Flower Boy Band (2012)
Shut Up Flower Boy Band is a 2012 South Korean television series starring Sung Joon, Jo Bo-ah, Kim Myung-soo, Jung Eui-chul, Lee Hyun-jae, Yoo Min-kyu, and Kim Min-suk. It is a coming-of-age story about a high school rock band dealing with friendship, rivalry, romance and their passion for music. It aired on tvN from January 30 to March 20, 2012 on Mondays and Tuesdays at 23:00 for 16 episodes.
It is the second installment in cable channel tvN's new line of youth-targeted programming "Oh! Boy" Project, which features a line-up of handsome leading men. The previous series was Flower Boy Ramyun Shop.
Yoo Min-kyu was cast after winning tvN's reality audition program Flower Boy Casting: Oh! Boy. Kim Myung-soo is from boy band Infinite, Lee Hyun-jae is from indie rock band Mate, and Kim Min-suk and Kim Ye-rim were contestants on reality talent show Superstar K3.
Views: 81
Genre: Drama
Actors: Bang Sung-Joon, Dong Hyun-bae, Jo Bo-ah, Jung Eui-chul, Jung Jin-an, Kim C, Kim Hyun-joon, Kim In-seo, Kim Jung-min, Kim Min-seok, Kwak Jung-wook, L, Lee Hyun-jae, Lee Min-ki, Lim Kim, Ma Dong-seok, Yoo Min-kyu, Yum Jung-ah
Studio: Oh!Boy Project